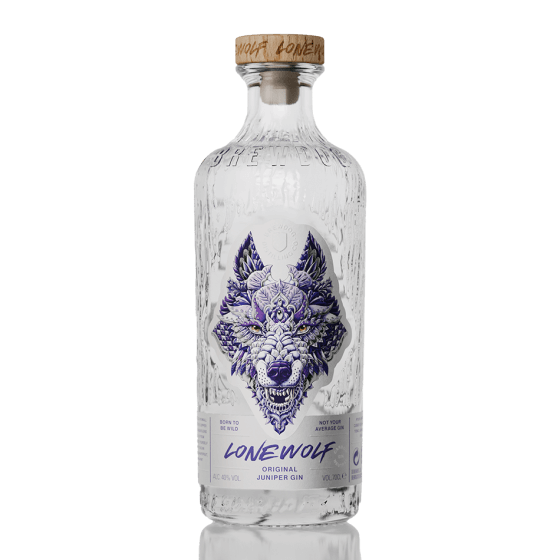 The return of the wolf, the handcrafted gin infuses a unique blend of botanicals using a bespoke copper pot to create an unmistakable flavoursome gin. Using flavours of smooth Tuscan juniper, zesty lemon and grapefruit, floral lavender and a hint of pepper spice this unmistakable gin is sure to pack of punch. The collaboration between BrewDog Distilling Co and Pattesons was born to encapsulate the Lone Wolf range within an exceptional, custom-designed bottle, breathing new life and identity into the wolf.
Collaborating with Launch Packaging Design and United Creatives, we skilfully translated their comprehensive 2D and 3D blueprints into an exquisite glass bottle, exemplifying meticulous craftsmanship. The Lone Wolf Bottle boasts elegant contours, with gently tapered sides and broad, gracefully curving shoulders. A bespoke bark-textured motif gracefully meanders across the bottle's surface, creating an engaging tactile experience that forges a tangible connection between the imbiber and the spirit. Through strategically positioned multi-level embossing and branding on the shoulder and base, the Lone Wolf Gin bottle has undergone a transformative aesthetic shift, fashioning a daring bottle for an audacious brand.
The remarkable bottle enfolds the wolf within a visually arresting design, seamlessly weaving in elements of the local landscape and the natural components that compose the gin. This union culminates in a bottle that is truly unparalleled.
Details of the Lone Wolf Bottle:
Bottle Capacity: 700ml
Cork Dimensions: 22.5mm
Color: Cosmetic Flint
BrewDog Branding Embraced in Embossed Detailing on the Shoulder and Base
Debossed Bark Texture Engraved Across the Bottle's Surface
our Memberships & accreditations