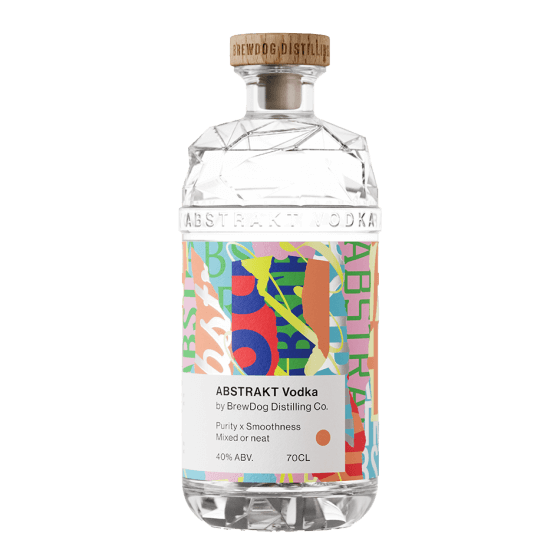 The partnership between BrewDog Distilling Co and Pattesons emerged with the purpose of disrupting a market saturated with understated designs and muted colour schemes. The Abstrakt Vodka, a true embodiment of purity, was meticulously crafted for the purpose of being enjoyed either neat or as a base for your preferred mixer. This artisanal vodka undergoes a quintuple distillation process, resulting in an astonishing smoothness that is now encased within an unparalleled bespoke spirits bottle.
The bottle design draws inspiration from contemporary aesthetics, influenced by the realm of abstract art. The Abstrakt bottle showcases a sleek, straight-sided panel that offers an optimal canvas for labelling. In addition, it incorporates multi-level embossing of brand elements both below the shoulder and within the base. The defining characteristic of this bottle is the presence of prismatic shapes, intricately integrated into the shoulder's structure. These prism-like contours are meticulously crafted to refract light, dynamically transforming the bottle's surroundings. The prism motif is seamlessly extended throughout the bottle's form, even gracing the base, allowing the captivating reflective properties to be experienced even while pouring.
The result is a visually striking bottle that embodies the essence of abstraction, artfully designed to accommodate three distinct Flavors: Watermelon x Strawberry, Raspberry x Lime, and Marshmallow x Vanilla.
Details of the Abstrakt Bottle:
Bespoke Mould
Bottle Capacity: 700ml
Cork Dimensions: 22.5mm
Color: Cosmetic Flint
BrewDog Branding Integrated into embossed detailing beneath the Shoulder and on the Base
Prisum Design Adorning the Shoulder and Base
our Memberships & accreditations